Emirates joins Ghana in making aviation history: One-off A380 lands in Accra
Airline supports Kotoka International Airport's new Terminal
Dubai – 2 October, 2018: The Emirates A380 aircraft made a historic touch down at the Kotoka International Airport's Terminal 3, as a one-off service to the new terminal. The airline's flagship double-decker has become the first-ever scheduled A380 service to Ghana, demonstrating the airport's readiness to accommodate the A380, the world's largest commercial passenger jet.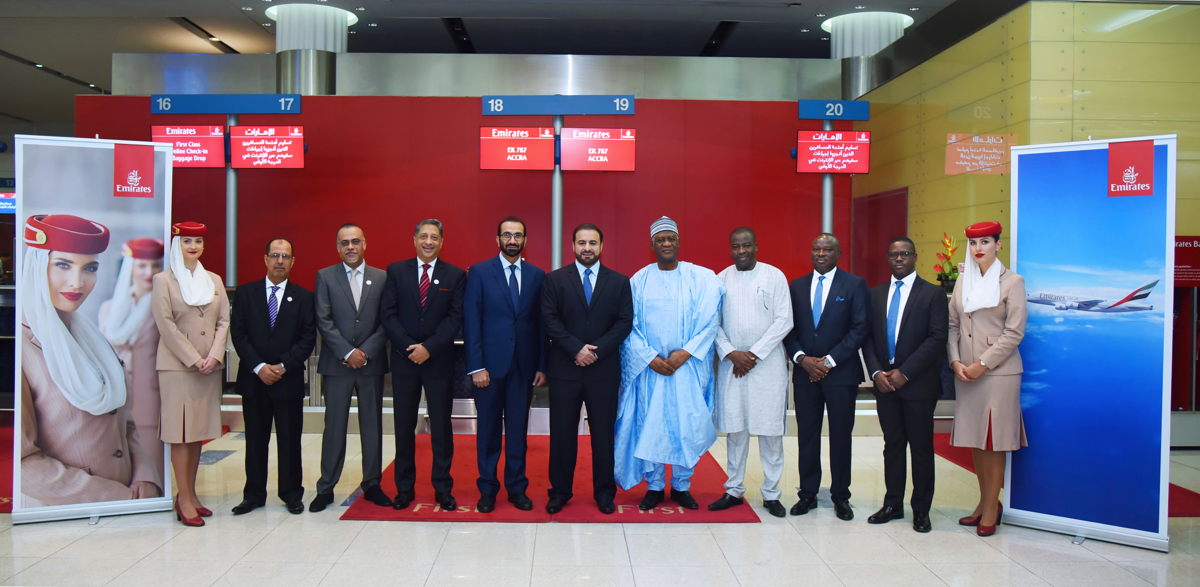 The special Emirates A380 flight was operated by Accra-born Ghanaian, Capt Solomon Quainoo and UAE national, First Officer Faisal Alhammadi.
The A380 flight, operating as EK 787, was joined by a top-level delegation led by Orhan Abbas, Emirates' Senior Vice President, Commercial Operations – Africa, H.E. Ahmed Ramadan – Ambassador of Ghana to the U.A.E, Simon Atieku – Vice Council of Ghana (Dubai & N.E) – Consulate General of Ghana, Akwasi Abayie Adomako – Minister – Counsellor and Deputy Head of Mission Ghana, Hesham Abdulla Qassim Al Qassim – CEO – Wasl Group & Vice Chairman – ENBD, Vinay Malhotra – Chief Operating Officer, VFS, Lt. Col. Ibrahim Hamad Ibrahim Abdalla Al Maazmi – Dept. of Naturalisation & Residency Dubai, Majed Sultan Murad Ali Al Joker – Executive Vice President Corporate Affairs, Dubai Airports.
Upon landing at Kotoka International Airport in Accra, the aircraft was met with a ceremonial water cannon salute, and the Emirates delegation was welcomed by government officials and airport executives. After a welcoming ceremony, government officials, VIPs, media and members of the travel industry were given a guided tour of the A380 by Emirates cabin crew.
Orhan Abbas, Emirates' Senior Vice President, Commercial Operations, Africa said: "We are honoured to bring our flagship A380 to the impressive new terminal at Kotoka International Airport, as it demonstrates its full capabilities with the handling of the first A380 aircraft. Accra is an important destination in Africa and we remain committed to providing our customers in Ghana with the world class services we are known for. The Emirates A380 has been at the centre of innovation, and bringing this popular aircraft to Accra is a significant milestone in our operations to Ghana, where we will soon celebrate 15 successful years. We thank the Ghanaian government, the Ministry of Aviation and the government authorities whose support has been instrumental in making today's one-off service a success."
Emirates commenced operations to Ghana in January 2004 and flies to Accra daily from Dubai. Close to 1.6 million passengers have flown the Dubai – Accra route since its start, with popular destinations being China, India and the United Kingdom via its Dubai hub. Since 2006, Emirates SkyCargo has transported a total of over 73,000 tonnes of cargo from and into Ghana. The air cargo carrier has facilitated exports of over 41,000 tonnes from the country in the same time period. Major commodities exported include fruits and precious metals.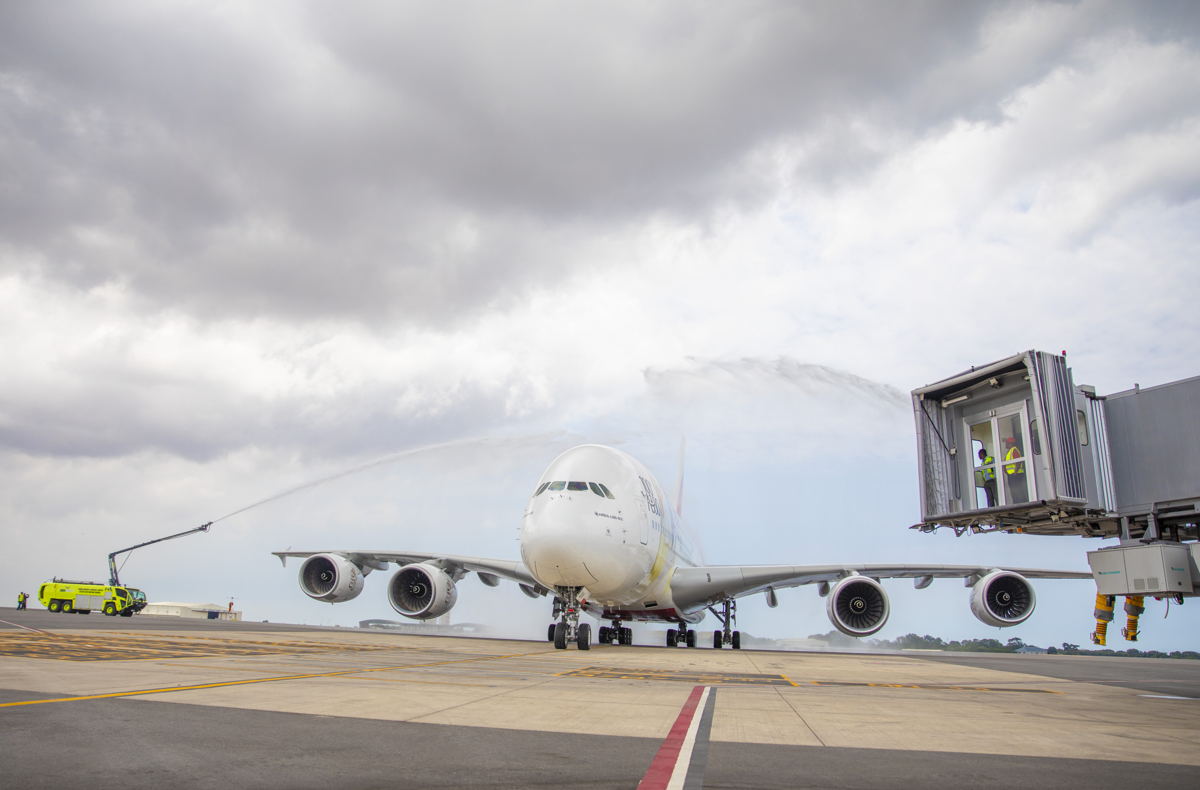 This year marks the Emirates A380's 10th anniversary, and the iconic aircraft has transformed flying over 96 million passengers on over 106,000 flights. The Emirates A380 to Accra operated in a three-class configuration, with 426 seats in Economy Class on the main deck, 76 flat-bed seats in Business Class and 14 First Class Private Suites on the upper deck. In addition to spacious seats, free onboard Wi-Fi and award-winning inflight entertainment in all cabins, the Emirates' A380 is renowned for its First Class Private Suites, Shower Spas and Onboard Lounge for First Class and Business Class passengers, offering a wide range of drinks and canapés, as well as space to socialise or simply relax.
www.emirates.com
Ozow partners FlySafair to improve air travel access for millions of South Africans
Thomas Pays, Co-Founder and CEO of Ozow
A new partnership between digital payments company Ozow and leading local airline FlySafair is making it easier than ever for South Africans to purchase flight tickets.
According to Ozow co-founder and CEO Thomas Pays, the vast majority of South Africans have no credit cards and require alternative means of purchasing goods and services online. "There are more than 49 million bank accounts but only eight million active credit cards in South Africa. This poses the threat of locking millions out of digital and financial services. As an impact-driven and market-led company, Ozow is at the forefront of developing products, services and partnerships that enable greater digital and financial inclusion for all consumers and businesses. The partnership with South Africa's most innovative and consumer-friendly airline is one more step toward this goal."
Kirby Gordon, Chief Marketing Officer at FlySafair, says: "We've always respected the need to offer customers without credit cards various options to make payments both online and offline. We're pleased to have partnered with Ozow who offer a safe, reliable and easy-to-use option for our customers."
Also Read Interview with Ava Airways CEO, Olivier Arrindell
While airlines have been grounded and air travel limited since lockdown was first implemented in March 2020, South Africans generally love to fly. In 2017 alone, the Airports Company of South Africa tracked more than 40 million passengers traveling through the country's nine largest airports.
Pays adds that the two companies share a commitment to ensure their services are accessible to all South Africans. "As a business, we work to break down barriers that keep more consumers from enjoying the benefits of digital payments. Cash remains the most expensive and least secure method of payment, but most South Africans still rely on cash payments for most of their purchases. By partnering with likeminded, consumer-led businesses such as FlySafair, we can accelerate the decashing of the South African economy and bring digital and financial empowerment to all South Africans."
iFly Aviation Takes Young Aviators And STEM Program To Uganda
Kampala, Uganda: iFly is an aviation enterprise which is dedicated to bridging the gap between industry and community through inclusive youth empowerment programs. Our core focus is social innovation in Aviation, Science, Technology, Engineering, Mathematics (STEM) and driving our initiatives alongside key stakeholders in order to facilitate and enable the next generation.  
Our purpose is to elevate learners by empowering them, motivating and giving insight into opportunities that exist within the aviation industry and educating them along the way. As part of our efforts to drive our initiatives across Africa as to create a pan African movement, we have recently launched our programs in Uganda, this being the second country after South Africa. 
We hosted our first event at Nakasero secondary school in Uganda, to the delight of over 200 students. They were exposed to motivational talks including insights into aviation and its various opportunities. We had a flight simulator session where the students got exposed to a computer based flight simulator in order to see and learn first hand what happens in the cockpit during flight. 
The event was also complimented by a first of its kind engine building project,  an initiative of the Rolls Royce STEM program. Through this workshop, students got to build a 3D model Trent engine, the likes of which powers the Boeing 787 Dreamliner and Airbus A350, 2 of the most popular wide body airliners in the world. 
Also Read: Meet The First Female Military Pilot In Botswana Advancing Girls In STEM And Entrepreneurship
Our goal a to have such programs running across the continent and we would Like to invite any like minded and passionate people across Africa to join us as ambassadors and adopt iFly STEM under our blue print in their respective countries. We sincerely appreciate our ambassadors in Uganda for pulling off a successful first event. David Ssenkungu, Derrick Talemwa, Peter Mwesigwa and Hosea Datari. 
More Event Pictures:
Email derek@ifly-global.com
Visit: iFly
SAA to address CEO Vuyani Jarana's resignation, outline future plans
Picture: ANA/Ayanda Ndamane.
JOHANNESBURG – The board of South African Airways (SAA) and its executive management will on Friday take the nation into their confidence about the state-owned airline's current and future plans in light of Vuyani Jarana's resignation as CEO.
In a terse statement on Thursday, the leadership of the airline said it would like to put certain matters into perspective and assure its customers, the markets and stakeholders about business continuity and commitment to the implementation of the airline strategy.
Jarana tendered his resignation last week as group chief executive, citing the airline's mounting debt due to uncertainty about funding and lack of support from government as a shareholder in implementing the airline's long-term turnaround strategy.
In his leaked resignation letter, Jarana said that a big chunk of the R5 billion bailout SAA received from government for the 2018/19 financial year had been used to pay creditors up to the end of March 2018, to the point that the airline on three occasions was on the brink of not paying salaries.
"We have not been able to obtain any further funding commitment from government, making it difficult to focus on the execution of the strategy," Jarana said.
Also Read From Cape To Cairo on a plane built by teens
"I spend most of my time dealing with liquidity and solvency issues. Lack of commitment to fund SAA, is systematically undermining the implementation of the strategy, making it increasingly difficult to succeed."
The board of SAA accepted Jarana's resignation, saying that he had spearheaded the implementation of the long-term strategy to return the airline to financial and operational sustainability and position it to deliver effectively on its mandate since he joined the airline in November 2017.
But workers under the SA Cabin Crew Association have slammed the airline for making Jarana's life difficult, saying that  he had, through consultation and transparency, managed to get the buy in of cabin crew at SAA into the long term turnaround strategy and his clear plan to revive the carrier's fortunes.
The workers have even threatened to go on strike to have Jarana reinstated as SAA chief executive.
African News Agency (ANA)