Emirates joins Ghana in making aviation history: One-off A380 lands in Accra
Airline supports Kotoka International Airport's new Terminal
Dubai – 2 October, 2018: The Emirates A380 aircraft made a historic touch down at the Kotoka International Airport's Terminal 3, as a one-off service to the new terminal. The airline's flagship double-decker has become the first-ever scheduled A380 service to Ghana, demonstrating the airport's readiness to accommodate the A380, the world's largest commercial passenger jet.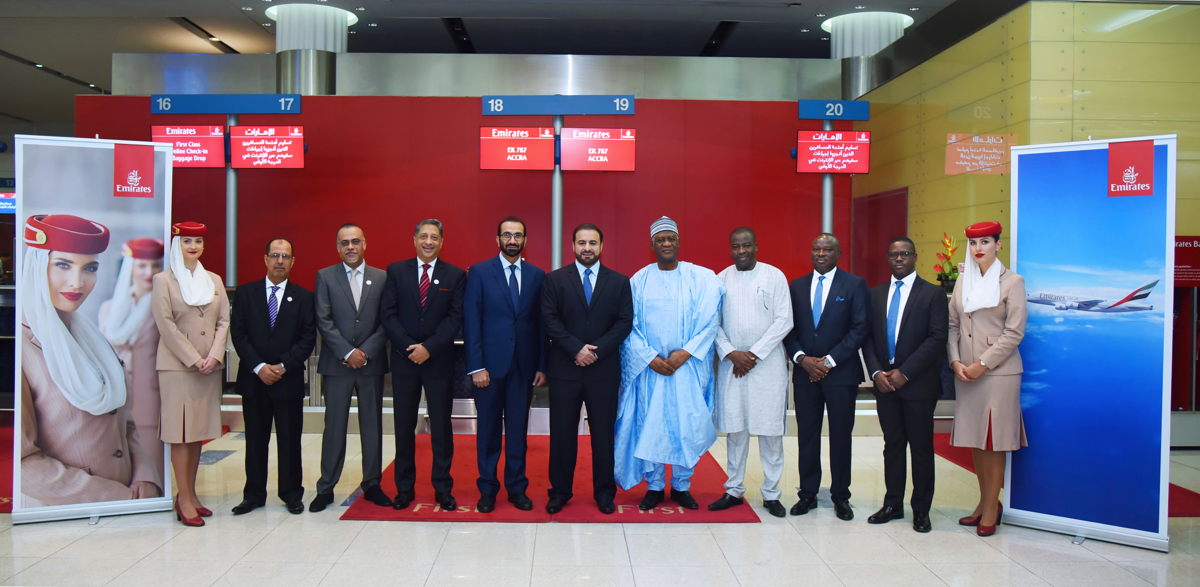 The special Emirates A380 flight was operated by Accra-born Ghanaian, Capt Solomon Quainoo and UAE national, First Officer Faisal Alhammadi.
The A380 flight, operating as EK 787, was joined by a top-level delegation led by Orhan Abbas, Emirates' Senior Vice President, Commercial Operations – Africa, H.E. Ahmed Ramadan – Ambassador of Ghana to the U.A.E, Simon Atieku – Vice Council of Ghana (Dubai & N.E) – Consulate General of Ghana, Akwasi Abayie Adomako – Minister – Counsellor and Deputy Head of Mission Ghana, Hesham Abdulla Qassim Al Qassim – CEO – Wasl Group & Vice Chairman – ENBD, Vinay Malhotra – Chief Operating Officer, VFS, Lt. Col. Ibrahim Hamad Ibrahim Abdalla Al Maazmi – Dept. of Naturalisation & Residency Dubai, Majed Sultan Murad Ali Al Joker – Executive Vice President Corporate Affairs, Dubai Airports.
Upon landing at Kotoka International Airport in Accra, the aircraft was met with a ceremonial water cannon salute, and the Emirates delegation was welcomed by government officials and airport executives. After a welcoming ceremony, government officials, VIPs, media and members of the travel industry were given a guided tour of the A380 by Emirates cabin crew.
Orhan Abbas, Emirates' Senior Vice President, Commercial Operations, Africa said: "We are honoured to bring our flagship A380 to the impressive new terminal at Kotoka International Airport, as it demonstrates its full capabilities with the handling of the first A380 aircraft. Accra is an important destination in Africa and we remain committed to providing our customers in Ghana with the world class services we are known for. The Emirates A380 has been at the centre of innovation, and bringing this popular aircraft to Accra is a significant milestone in our operations to Ghana, where we will soon celebrate 15 successful years. We thank the Ghanaian government, the Ministry of Aviation and the government authorities whose support has been instrumental in making today's one-off service a success."
Emirates commenced operations to Ghana in January 2004 and flies to Accra daily from Dubai. Close to 1.6 million passengers have flown the Dubai – Accra route since its start, with popular destinations being China, India and the United Kingdom via its Dubai hub. Since 2006, Emirates SkyCargo has transported a total of over 73,000 tonnes of cargo from and into Ghana. The air cargo carrier has facilitated exports of over 41,000 tonnes from the country in the same time period. Major commodities exported include fruits and precious metals.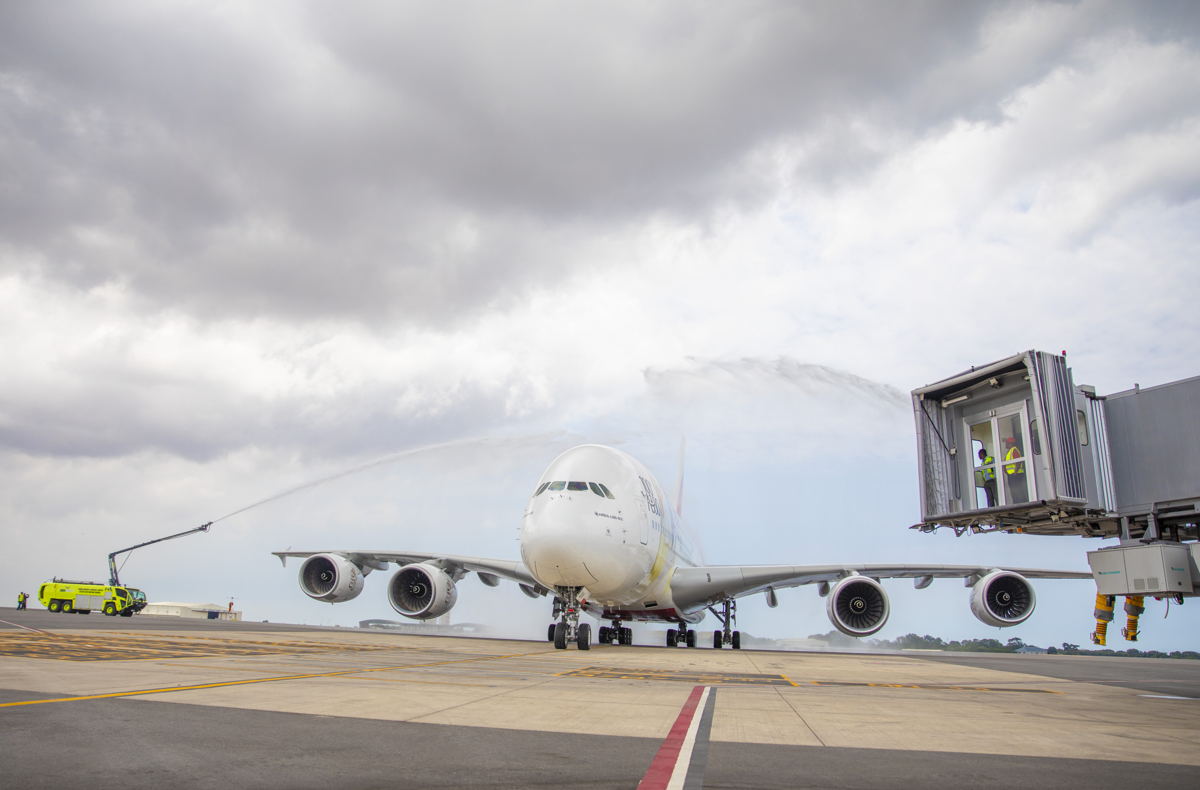 This year marks the Emirates A380's 10th anniversary, and the iconic aircraft has transformed flying over 96 million passengers on over 106,000 flights. The Emirates A380 to Accra operated in a three-class configuration, with 426 seats in Economy Class on the main deck, 76 flat-bed seats in Business Class and 14 First Class Private Suites on the upper deck. In addition to spacious seats, free onboard Wi-Fi and award-winning inflight entertainment in all cabins, the Emirates' A380 is renowned for its First Class Private Suites, Shower Spas and Onboard Lounge for First Class and Business Class passengers, offering a wide range of drinks and canapés, as well as space to socialise or simply relax.
www.emirates.com
Qatar Airways to Resume Services to Khartoum in Sudan with Four Weekly Flights
Qatar Airways Aircraft (Source: YouTube)
Qatar Airways is pleased to announce that it will resume services to Khartoum, Sudan, with four weekly flights starting 11 May 2021, increasing to daily service from 1 June 2021. The resumption of services will enable passengers flying from and to Sudan to benefit from the airline's extensive international network in Asia, Australia, Europe and the US. The Khartoum services will be operated by the airline's state-of-the-art Boeing 787 Dreamliner featuring 22 seats in Business Class and 232 seats in Economy Class.
Qatar Airways Group Chief Executive, His Excellency Mr. Akbar Al Baker, said: "Sudan is a strategically important market for Qatar Airways. We are pleased to announce the resumption of services to Khartoum, allowing Sudanese to enjoy our extensive international network in Asia, Australia, Europe and the US via our home and hub, Hamad International Airport. We will continue leading the way in keeping our 24 African destinations connected to the world."
Qatar Airways has become the first global airline in the world to achieve the prestigious 5-Star COVID-19 Airline Safety Rating by international air transport rating organisation, Skytrax. This follows HIA's recent success as the first and only airport in the Middle East and Asia to be awarded a Skytrax 5-Star COVID-19 Airport Safety Rating. These recognitions provide assurance to passengers across the world that airline health and safety standards are subject to the highest possible standards of professional, independent scrutiny and assessment. For full details of all the measures that have been implemented onboard and in HIA, please visit qatarairways.com/safety.
Khartoum, the Sudanese capital, is located where the White Nile meets the Blue Nile. Khartoum has more than 200 pyramids and the majority of them can be found in Meroë, the remains of an ancient trading hub. Up close, they are truly impressive to behold, with each pyramid bearing decorative elements from Pharaonic Egyptian, Greek and Roman civilisations.
The national carrier of the State of Qatar continues to rebuild its network, which currently stands at over 130 destinations. With more frequencies being added to key hubs, Qatar Airways offers unrivalled connectivity to passengers, making it easy for them to change their travel dates or destination if they need to.
A multiple award-winning airline, Qatar Airways was named 'World's Best Airline' by the 2019 World Airline Awards, managed by the international air transport rating organisation Skytrax. It was also named 'Best Airline in the Middle East', 'World's Best Business Class', and 'Best Business Class Seat', in recognition of its ground-breaking Business Class experience, Qsuite. Qsuite is available on flights to more than 40 destinations including Johannesburg, Frankfurt, New York and Singapore.
Flight Schedules starting 11th May:
Monday, Wednesday, Friday, Sunday
Doha (DOH) to Khartoum (KRT) QR1331 departs 19:40 arrives 22:25
Khartoum (KRT) to Doha (DOH) QR1332 departs 01:00 arrives 05:25
Daily Flights Schedules starting 1st June:
Doha (DOH) to Khartoum (KRT) QR1331 departs 19:40 arrives 22:25
Khartoum (KRT) to Doha (DOH) QR1332 departs 01:00 arrives 05:25
Rolls-Royce Set To Power Vertical Aerospace's All-Electric Aircraft
Vertical Aerospace by Rolls-Royce (Flickr)
Rolls-Royce's ground-breaking technology is set to power Vertical Aerospace's flagship Urban Air Mobility (UAM) aircraft. A Rolls-Royce electrical power system will be integrated into the piloted all-electric vertical take-off and landing (eVTOL) vehicle, which will carry up to four passengers for 120 miles at cruise speeds of over 200mph and is on course to certify in 2024.
Vertical Aerospace is a key collaboration for Rolls-Royce Electrical as it marks our first commercial deal in the UAM market and builds on previous agreements to work with partners on demonstrator programmes. Rolls-Royce will design the system architecture of the whole electrical propulsion system, the electric power system that includes our latest 100kW-class lift and push electrical propulsion units, the power distribution and the monitoring system that will support operations.
Rob Watson, Director – Rolls-Royce Electrical, said: "We are delighted to collaborate with Vertical Aerospace for the electrical technology that will power their pioneering eVTOL aircraft. This exciting opportunity demonstrates our ambitions to be a leading supplier of sustainable complete power systems for the new Urban Air Mobility market which has the potential to transform the way that people and freight move from city to city."
Michael Cervenka, CEO – Vertical Aerospace said: "We are excited to collaborate with Rolls-Royce, bringing onboard a hugely experienced team with deep expertise and cutting-edge electrical technologies to power our pioneering eVTOL aircraft. This collaboration builds on our existing partnerships and Vertical is well-positioned to develop the world's leading eVTOL aircraft, certified to the highest CAA and EASA safety standards being set globally."
Around 150 Rolls-Royce engineers based in countries including Hungary, Germany, US and the UK will work with the Vertical Aerospace team on developing the aircraft which is aiming to be one of the world's first certified eVTOLs. Vertical Aerospace, based in Bristol, has already flown multiple full-scale eVTOL prototypes and the build of VA-X4 will begin shortly with assembly taking place in the UK and the first flight happening this year.
Vertical Aerospace by Rolls-Royce (Flickr)
Electrification of flight is an important part of Rolls-Royce's sustainability strategy and supports our aim to contribute to a net zero carbon future by 2050.  Rolls-Royce Electrical is a specialist team whose focus is to develop sustainable, efficient and quieter technology for aviation, marine, land and industrial applications.
Rolls-Royce also recently announced a partnership with Tecnam and major worldwide aviation players for the development of the P-Volt: an all-electric, twin electric motor, short and medium range passenger aircraft, designed for maximum versatility and safety, powered by renewable energy. In our traditional aviation segments technology continues to be developed for more-electric aircraft solutions- with integrated electrical starter generators, auxiliary power units and more intelligent management of the electrical systems on board.
Lufthansa and SWISS partner Airlink to offer convenient travel connections in Southern Africa
Lufthansa and SWISS Aircraft (Source: Lufthansa Group website)
Lufthansa and SWISS are partnering with Airlink, to offer customers access to over 25 domestic destinations in South Africa, including Bloemfontein, George, Upington, Skukuza, Nelspruit, Hoedspruit and Port Elizabeth – as well as over 20 regional destinations in Southern Africa, such as Gaborone, Kasane, Vilanculos, Maun, Victoria Falls, Maputo, Windhoek, Harare, Lusaka, Ndola, Bulawayo and many more.
The interline agreement which came into effect in January 2021, allows customers the convenience of purchasing a single ticket to or from a multitude of destinations in Southern Africa, via Airlink's gateways in Johannesburg and Cape Town, therefore offering a truly seamless travel experience across both airlines.
"The Lufthansa Group is pleased to offer our customers even more travel options and convenience through our partnership with Airlink. We value Airlink as an important and reliable partner in the restart of our South African operations, and look forward to exploring further opportunities to widen the scope of our joint collaboration. This
partnership represents another milestone in further enhancing our network, and expressing the Lufthansa Group's commitment to South Africa," says Dr. André Schulz, General Manager Sales Southern and East Africa, Lufthansa Group.
Airlink CEO, Mr. Rodger Foster added: "We are proud and excited about our commercial interline agreement with Lufthansa and SWISS. We have a deep respect for these airlines, their values and global reach. We are confident that the partnership will provide our respective customers with a wider choice of travel options through the convenient interconnectivity of our respective flights at Johannesburg's OR Tambo International Airport and Cape Town International Airport.
The Lufthansa and SWISS agreement with Airlink applies to tickets sold through LH.com, swiss.com and flyairlink.com – as well as through local travel agencies.
Jointly issued by Airlink and Lufthansa Group