South Africa, Sahara Group Explore Collaboration On Energy In Davos
Davos, Switzerland, January 28, 2019: Enhancing the capacity, accessibility, reliability and safety of energy in its various forms were the key issues that dominated discussions between South Africa and Sahara Group, a leading international energy conglomerate in Davos, Switzerland.
The meeting had South African President, Cyril Ramaphosa, Minister of Energy, Jeff Radebe, Group Managing Director, Sahara Power Group, Kola Adesina and Director, Governance and Sustainability, Pearl Uzokwe in attendance.
Both parties decried the insufficient harnessing of the continent's energy sector potential, adding that achieving a robust energy sector remained the most critical component of the levers Africa requires to leapfrog into the Fourth Industrial Revolution.
The South African Energy Minister said a collaborative approach involving all stakeholders on the continent should be adopted and driven by an empowered public private partnership. "The energy potential of Africa is immense and so much is being done to exploit this potential. However, what we need is properly defined machinery that would address the issue from a micro and macro level across the continent through cooperation. South Africa will be willing to partner with Sahara Group and other stakeholders to achieve this."
Adesina said Sahara Group had since been leading the cooperation conversation and believes that South Africa has a lot to offer the continent as a frontline economy that has continued to demonstrate strategic leadership in the energy sector.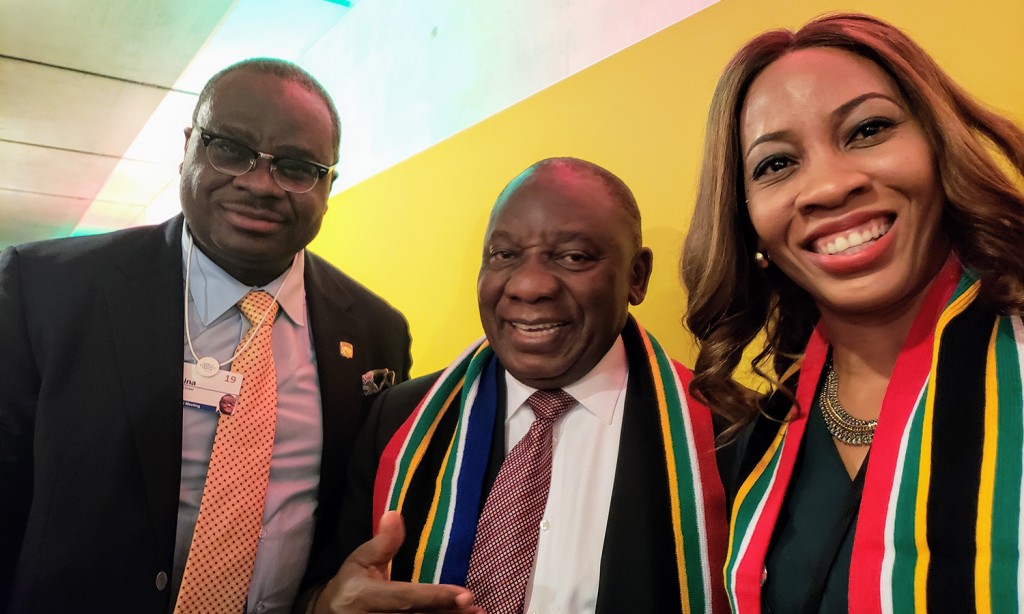 He explained that with an estimated 130 million African households still dependent on charcoal, kerosene, lantern, candles, fossil fuels, and over half a billion Africans without access to electricity, the continent would need to declare a state of emergency on the energy sector. "Energy is a critical component of driving economic growth and prosperity. Africa needs to have a common energy sector agenda that addresses the peculiarities of the various markets across the entire energy value chain. Sahara Group would be delighted to partner with South Africa to drive this agenda, working alongside all stakeholders."
Adesina added that huge investment in technology would be required to expand the energy mix to include more modern renewable energy sources.
Also speaking at the parley, Uzokwe said the continent must ensure that any energy agenda adopted must have strong governance and sustainability components for continuity and longevity. "Supportive legislation, environmental consideration, safety and the sustainable development goals must be well articulated in the agenda. Transparency and the creation of a level playing field are also factors to be considered as we would be looking at applicability across markets with different capacities."
Industry experts say meeting current and future energy demand remains a major challenge in all African countries with the continent's population expected to hit 2.3 billion people by 2050.
Source: Sahara Group
COP28: Shelter Afrique secures grant from IsDBI to pioneer affordable housing products
At COP28
Shelter Afrique, the leading Pan-African Housing Finance Institution, announced a collaboration with the Islamic Development Bank Institute (IsDBI) at the sidelines of COP28. The partnership aims to develop Islamic Housing Finance Products to respond to the growing demand for affordable and climate adaptive housing solutions across the continent.
The Pan-African Housing Finance Institution has sought this collaboration with the IsDBI to create tailored products in harmony with principles of responsible investing. This partnership is timely as several African countries are making notable progress in developing their Islamic finance markets, presenting untapped growth opportunities.
Shelter Afrique recognizes a gap in the availability of diversified financial products at scale. As a Pan-African Housing Finance Institution committed to innovation, Shelter Afrique views the development of Islamic finance products as a viable alternative financing model to effectively address Africa's housing and urban development challenges.
Mr. Thierno Habib-Hann, Managing Director of Shelter-Afrique, expressed delight at the strategic significance of the program, stating, "We are thrilled to collaborate closely with IsDBI on this initiative. Rent to own schemes are natural products for islamic finance, hence will be leveraged to address the large housing gap. In addition, this collaboration aligns with our commitment towards a dedicated funding thematics dedicated to 'Green financing and Islamic finance".
Shelter Afrique's continuous efforts to enhance its product offerings underscore its commitment to meeting the diverse needs of its clients and fulfilling its mandate of delivering affordable housing for all in Africa. The collaboration with IsDB, a multilateral development bank known for its impactful initiatives in member countries, positions Shelter Afrique to pioneer developing and delivering unique financial offerings and structures for housing infrastructure across the continent.
In his comments on the collaboration, Dr. Sami Al-Suwailem, Acting Director General of the Islamic Development Bank Institute, said, "This partnership is part of our collective effort to promote inclusive and sustainable housing solutions through Islamic finance. The Technical Assistance provided by IsDBI aims to equip Shelter Afrique with the necessary tools to navigate the evolving landscape of affordable housing and urban development in Africa. We believe that through strategic collaborations like these, we can drive positive change and contribute to the continent's socio-economic development."
mediaReach OMD Nigeria Appoints Stephen Onaivi as New Managing Director
mediaReach OMD Nigeria Board of Directors has confirmed the appointment of Stephen Onaivi effective January 1st, 2024. Onaivi will become the managing director of the nation's foremost media investment and management agency, known for its thought leadership and innovativeness. The Regional Chief Executive Officer of Omnicom Media Group West & Central Africa (OMG WeCA), Alaba Fadero, announced Onaivi's appointment in Lagos.
According to Fadero, "Stephen's appointment is the result of a careful succession planning and talent development program. He is expected to maintain OMD's industry leadership and drive our regional growth strategy across the three critical global pillars of Client, People, and Capability."
Onaivi is a homegrown, globally evolved professional who has been responsible for driving innovation across major brands, including Diageo, Airtel, Olam, Vodafone, Virgin Atlantic, Google, Uber, and GSK, to mention a few across the West and Central African region.
In addition to being the Managing Director of OMD Nigeria, he has a mandate to drive the OMD brand across West and Central Africa to enhance client value and ensure the seamless integration of OMD values, technology, and strategic processes.
Before his new appointment, Onaivi was the Managing Director of OMD Ghana, where he contributed to developing a multi-disciplinary, forward-looking media and advertising industry and serviced an array of national, multinational, and regional clients.
Reacting to his new appointment, Onaivi expressed confidence that the industry leadership and innovative strides of OMD Nigeria would be maintained under his leadership, stating, "We are proud of our thought leadership and pragmatic approach to providing value-driven services to our clients, and they should expect more with our team's renewed commitment."
According to Onaivi, key focus areas of OMD Nigeria will include innovation driven by technology and marketing science, the development of local talents, and enhanced strategic thinking to improve the agency's value proposition to its clients.
Onaivi is a communication expert who has attended several management training courses and conferences from renowned business schools across the globe, including the Lagos Business School and London Business School. He is a keen golfer and a firm believer in the importance of community service. He is also the founder of the "Play with Stephen" golf tournament held annually in Accra, Ghana. The tournament leverages golf as a 'passion point' for key decision-makers to create awareness and support for Autism across Africa.
Endeavor Nigeria appoints Bolaji Balogun as its new Chairman
Endeavor Nigeria Chairman, Bolaji Balogun (Photo: Eleanor Goodey).
Endeavor Nigeria's board of directors has appointed
Bolaji Balogun
, Chief Executive Officer at Chapel Hill Denham, as its new Chairman. Bolaji was previously Endeavor Nigeria's Vice Chairman and succeeds Atedo Peterside, Endeavor Nigeria's founding board chairman.
"
I am honored to be asked to lead Endeavor Nigeria's Board at this time, building on the strong platform provided by Endeavor Nigeria's founding Chairman, driving our commitment to providing high-impact entrepreneurs with the access to capital, networks and mentorship that are so important to building a strong entrepreneurial ecosystem. I believe private capital and entrepreneurship are mission critical to delivering sustainable development.
"
Outgoing Chairman
Atedo Peterside
stated, "
It has been a pleasure serving as the Chairman of Endeavor Nigeria in its first five years in Nigeria, during which we have seen the organization help to accelerate high-impact entrepreneurship in Nigeria. Once Endeavor, always Endeavor and I look forward to offering my support to Endeavor Nigeria under the capable leadership of Bolaji and all his colleagues on the Board.
"
We are also pleased to announce that Endeavor Entrepreneurs
Olugbenga 'GB' Agboola
(Founder and CEO, Flutterwave) and
Christian Wessels
(President and co-founder, Daystar Power) have been appointed to the Endeavor Nigeria Board, becoming the first Endeavor Nigeria Entrepreneurs to join the local office's board.
GB, founder and CEO of
Flutterwave Inc.
, a FinTech company facilitating cross-border payment transactions of small to large African businesses via one API, was selected as an Endeavor Entrepreneur in April 2019. Christian Wessels, President & co-founder of
Daystar Power
, a leading provider of hybrid solar power solutions for commercial and industrial businesses in Africa, was selected as an Endeavor Entrepreneur in February 2020.
"As an Endeavor Entrepreneur, I have experienced firsthand the invaluable impact that this organization can have on scaling a company,"
said
Wessels
.
"I look forward to supporting both Endeavor Nigeria and its entrepreneurs."
"
Joining the Endeavor Nigeria Board of Directors is a full-circle moment for me. Endeavor has been instrumental in Flutterwave's trajectory, and I'm excited to pay it forward by supporting the next generation of Endeavor Entrepreneurs. I look forward to helping drive transformative change in our local tech ecosystem
", said
Agboola
.
"We are thrilled to have GB and Christian join us as the first Endeavor Entrepreneurs on the board and offer their unique perspective representing Endeavor Entrepreneurs and paying it forward,"
said Endeavor Nigeria Board Chairman
Bolaji Balogun
.
Endeavor is a non-profit organization that supports high-impact entrepreneurs worldwide to transform economies locally and globally. Having launched its operation in September 2019, Endeavor Nigeria possesses an active local board of business leaders who believe high-impact entrepreneurship can transform Nigeria. A complete list of board members may be found
here
.
Endeavor Nigeria's objective is to accelerate the growth of high-impact entrepreneurs through access to mentorship, talent, capital and markets. Endeavor Nigeria currently supports 16 companies and 35 entrepreneurs from diverse industries that will impact the Nigerian economy through job creation and economic opportunities as they scale.